Why Choose Green Vista Landscaping?
At Green Vista Landscaping we pride ourselves on customizing each landscape and hardscape design project to tailor fit each client's unique property needs and personal tastes. We listen to your goals and ideas and bring those to life!
Through our knowledge, expertise, and industry-leading capabilities, we provide our clients with the highest quality customer service and impeccable landscape designs that exceed expectations.

Specialized & Versatile
We design and install native gardens and resilient landscapes while offering a full range of seasonal landscaping services.

Customers First
Our reputation of excellent customer service is built on communication. We want to hear your ideas throughout the process.

Licensed & Insured
Our crew leaders and laborers are trained in the latest industry safety practices. We are a fully licensed and insured business.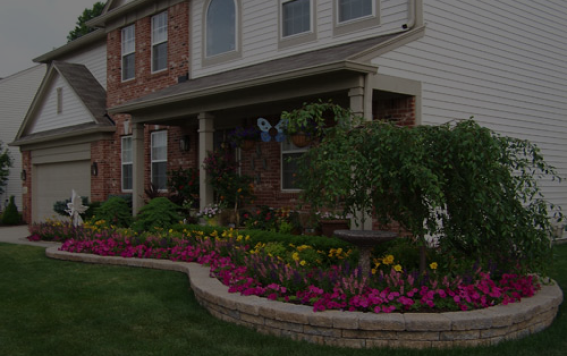 Landscape Design and Installation

We pride ourselves on customizing each landscape design to fit our client's unique property needs and desires.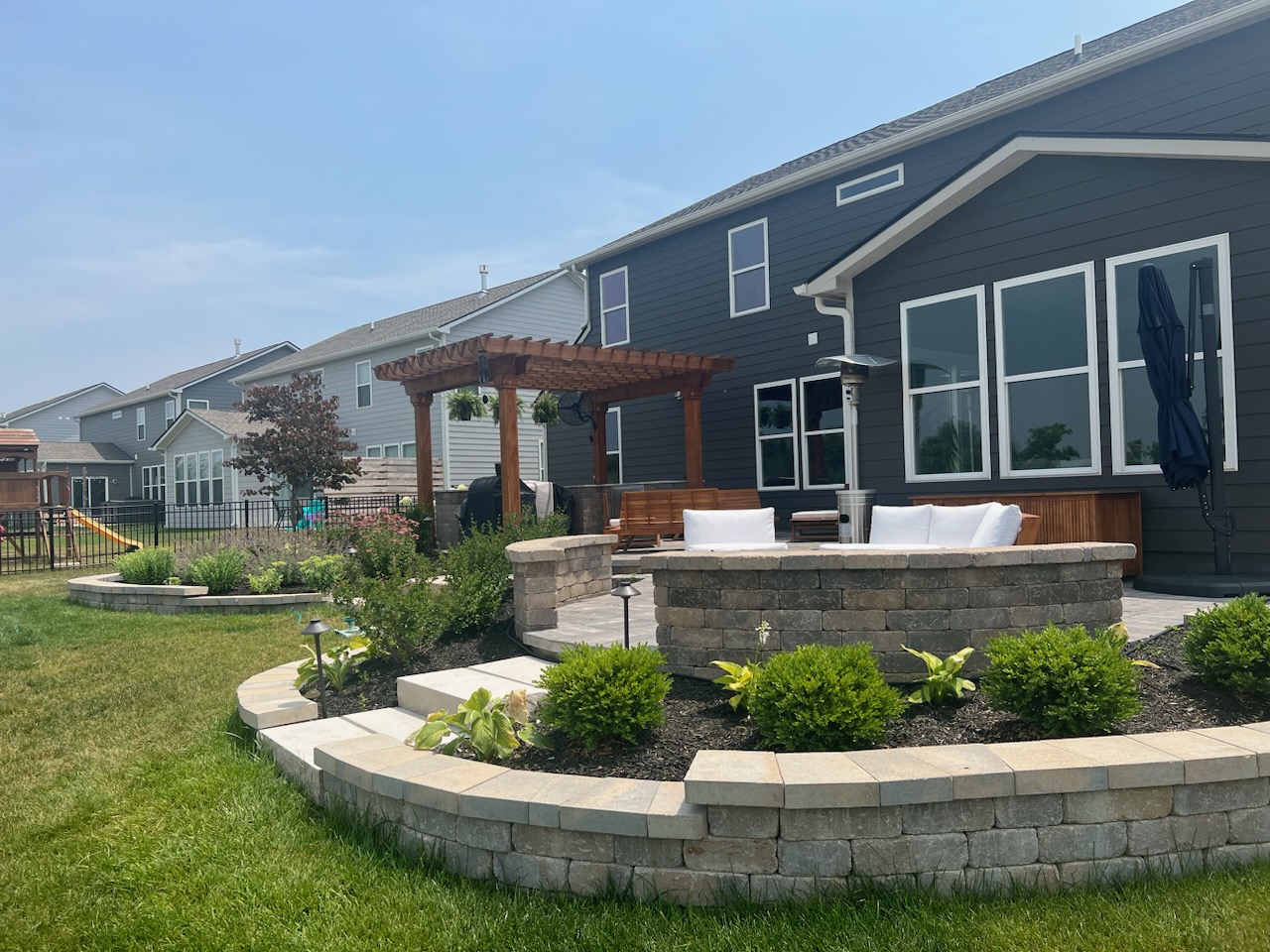 Hardscape Design-Outdoor Living Spaces
Discover our exceptional Hardscape Design and Build service, dedicated to creating breathtaking outdoor living spaces with a focus on grills and bar island stations.
Landscape Lighting
The landscape lighting division can design and implement a custom lighting package that adds security and ambiance to your property at night.
Green Vista Landscaping has served Indiana residents since 1981. We are a family-owned and operated landscaping company located in Noblesville, IN, and serving the greater Indianapolis area.

We specialize in residential outdoor living spaces, landscape and hardscape design, build, and installation, brick paver and natural stone patios, walkways, and steps, retaining walls, grill, and bar island stations, fire pits and fireplaces, and custom pergolas and screen panels. Water features including ponds, waterfalls, and bubbler stones. We also offer services such as landscape lighting, and the installation of Christmas lights.
Our lawn care services include landscape property maintenance, fertilization, weed mitigation, mowing, and lawn care. We also offer commercial snow removal services.
At Green Vista Landscaping, our decades of knowledge and expertise, plus our dedication to industry-leading best practices, ensure our customers receive the highest quality residential landscape design services. We work hard to give back to our environment with green and clean landscaping services that leave the great state of Indiana better than we found it.
Browse through the photos in our gallery to see our previous Indiana landscaping ideas and imagine what Green Vista Landscaping can do for your home or commercial property. From stunning hardscape design to green landscape solutions, you can be proud of, we want to be your partner in bringing your landscape dreams to life!
Green Vista Landscaping Careers
You're not like everyone else. You like a challenge. You said no to the cubicle. No to the tie. You stepped outside and said,
"This is the place for me!"
Come join us and put your natural talents to work. We don't want just anyone. We want U!
-Greg and Cheryl Cecil
15. June, 2023.
Hi TJ, Just want to thank you for the beautiful flowers that those sweet girls put in for us today! I remember Aurora doing them for us last year and she brought along her little sister with her today. Such good girls, and such great workers! If we ever need anything done again with our home we will always look to your company! Having them here today, made me remember how wonderful all of your crew was and what a great experience. We give your card and your name to everyone who we see who is doing yardwork! Take care and God bless you and your wonderful crew!
Green Vista takes good care of our pond and dinosaur every year. The fish and velociraptor are very happy with Green Vista's great service.
I wanted my yard to be low maintenance. Two years ago Jeff Eiler & his staff cleared an area, put mulch down and rearranged some plants, it turned out very nice. This year he did work on the back yard, getting rid of the grass that wouldn't grow, too many trees, and put down mulch and stones. Because I wasn't explicit enough with what I wanted, I wasn't satisfied so Jeff came out again and gave some good ideas to improve the area, he has always been very easy to work with , and professional.
GreenVista rebuilt the waterfall to our existing pond. They did a great job. After an initial consultation and estimate, they came back out with the pond specialist before they started work. It only took them one day to rip out our existing falls and build a new one, as well as re-stack rocks in our pond. The new fall is bigger, nicer, lower maintenance, and gives us better sound. Initially, we still had a leak in the waterfall after they rebuilt it. It took a couple of visits from them to fix the problem. It turned out to be a liner attachment problem that the pond specialist had only seen a couple of times in the past decade. It's easy to have a good experience when things go well, but I think you get a better idea of a company's service when there is a problem. We would be happy to use them again in the future.
GreenVista usually comes out about four times a year. They have done a good job. They are very prompt, professional, and provide good service. I am also going to hire them for the Fall cleanup of the beddings and tree trimming.
GreenVista handled the complete "restoration" of the landscaping at the rear of our house — creation of a lawn and landscaping of extremely large mulch bed and area around the hot tub deck. Green Vista also does all of the annual maintenance of this area. TJ and Green Vista are wonderful. The "backyard" of our house had always been unusable. Two problems: first, lots of trees and, therefore, little light; second, a very sloped yard. We tried several approaches from various vendors over the years, all unsuccessful. Then we contacted Green Vista. TJ came out and, in a relatively short time, produced a plan that included a substantial lawn that had never existed before and the complete landscaping of the large mulch bed. It worked perfectly. A year later I had a backyard that was the envy of my neighbors. My family and I couldn't have been happier. Indeed, from that time on I asked Green Vista to handle all of the landscape maintenance needs in the rear of our house. I trust TJ and the company so much that I would have no problem simply telling them to do whatever they think ought to be done without even contacting me about the price. Just wonderful service.
Gail & Kevin
Indianapolis
GreenVista Landscaping is great! We have used them several times. If you have any problems, they come out right away. The owner is very good at getting back to you if you have any questions about anything.
GreenVista did my mulch landscaping, spring, summer, and fall trimming as well. They handle my spring and fall irrigation also.
Greenvista was very responsive and came out quickly to provide a bid. I replaced mulch that had been in a couple flower beds surrounding my home with rock and rocked the side of my driveway. I'm all set for the spring! They completed everything in one day and left absolutely no mess.
We wanted to simplify our landscaping so that it would be low-maintenance. TJ did an excellent design and once we approved, he and his team did major clean-up of our beds, planted new plants and installed boulders and edging. They did an excellent job. The crew was very professional and hardworking.
Check out their incredible hardscapes and other projects online. Going with another contractor before meeting with Jeff and his design team…big mistake!
TJ came to our home several months ago to interview me and develop a landscaping plan for our property. Our home is a walkout, with a steep grade leading down to a wooded area in the rear. I was really delighted with the plan, TJ had taken care to measure and take pictures of the property, and especially paid attention to the plants and color palette I wanted. Plans called for new beds in the front of the house, with new trees, evergreens, bushes and perennials. Beds were edged with limestone, and an unsightly utility box was obscured from view with ornamental grasses. In the back, several retaining walls were created using boulders, and beautiful limestone steps lead down the grade. Plantings around the back include hollies and hydrangea, and many perennials. Twelve additional trees were planted in the back, including redbuds, dogwoods, arborvitae, a hawthorn, a sycamore, and a Japanese red maple. The plan called for the original plants to be transplanted and incorporated so that nothing went to waste. The crew that came and spent a week doing the work were incredible. They were truly nice guys who did a great job, and were a pleasure to work with. They answered all my questions about how to care for the plants through this winter and on an ongoing basis. By the time they were done, everything was spotless – and gorgeous! GreenVista is a great company – I highly recommend them. A great experience start to finish!!